Sea Of Feelings — PALETTE KNIFE Figure Oil Painting On Canvas By Leonid Afremov
The Art Of Foreplay WARNING *Sexually Explicit Content*
This article has come about as a natural evolution of healing my own masculinity and my service to the feminine, as many women feel unfulfilled spiritually and sexually with their partner and
as I see a great desire and longing for deep intimacy with many,
I also see few are truly willing to do what it takes to get there,
they wish they were, but they aren't really honest with themselves, most are lonely and seeking deep level intimacy from a place of loneliness rarely works out.
A place of need, is not attractive to someone in their power,
to create a deep intimacy we have to be willing to show ourselves fully,
naked, uninhibited and authentic, if we hide even the slightest part of ourselves,
or act fake in any way, it always comes back to haunt us when the true self is revealed.
We have to be willing to take the masks off, be brave and dive all in to receive this level of intimacy that many are seeking and to be able to do that, we have to do a lot of work on our own.
A deep intimate connection with ourselves has to be built.
We have to fall in love with our path, with our breathing,
our bodies, our minds, hearts and souls, something that is gradual work,
often spanning years alone, through a dark night of the soul.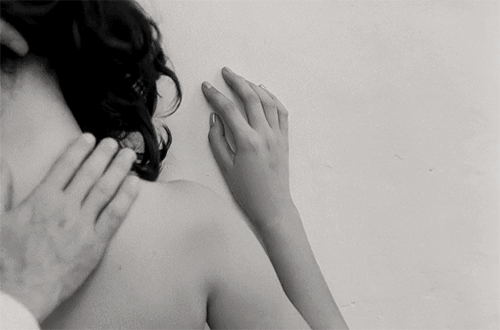 ...Did your neck just tingle now? I know mine did...
I see a great many want this level of intimacy,
but few have the stamina and passion to get themselves there,
let alone get someone else there.
Many are tired from life's challenges and work and have little fire left to put into a partnership,
they are already burned out. Our stamina and health will be directly reflected in our passion and fire, our lifeforce, source creative energy flowing through us, vitality.
If we lack vitality, we will also lack sexual fire.
They hope someone else on fire can take them there,
but if they do not have the fire within lit up and burning bright themselves,
they won't be able to meet the one on fire in the flames. And if it is not an equal energy exchange, then the fires won't reach as high as they need to for many to even get started or to stay on fire.
I hear many of my divine masculine brothers actually struggling with females heavily under porn programming or BDSM etc. as they do not feel comfortable with violence or rough sex from where they are currently at and I can also agree to this statement, over time I have met many women who are fast to throw their ass in the air and who suck at foreplay.
They have been programmed by porn equally as the males and it has made them unable to go deep within intimacy as their sexuality is a program. Some also have traumas and that can lean both ways, either she will be all out promiscuous or she will need tender love and care or be completely asexual, in which case I think it is very important to inform your partner of this before you string them along in a sexless commitment, always be open about who you are and what your needs are or aren't and play fair in love, dare to be seen and be open.
It will only lead you to experience deeper connections to your partner(s).
We all need sexual healing deeply as a collective and I know what is healing me
and can only hope it can help you heal your intimacy as well.
Sex is more than genitals, it is passion play, energies flowing, hormones flushing our system, chemicals released and neurons firing, charging up our bodies and an overwhelming attraction, a deep desire, roaring lust and love, do not forget love,
sex without love, admiration and respect, leaves us empty,
unfulfilled wanting more. Depleted. Losing vitality.
For me foreplay starts in the morning, when I wake her up with coffee or tea,
breakfast in bed, or breakfast on the table with flowers, or sweet messages hidden in her lunch box, notes on the mirror, messages of how much I love her and want her,
sweet tender acts of care throughout the day, drawing her a warm bath with candles,
give her a full body massage with yoni massage, Cunnilingus and full focus on only her, only receiving my love and care (I of course also enjoy that). To write her poetry,
serenade her under the stars, cook her dinner, she will love you madly if you clean for her and show up and share chores. Suprise her with all chores done and a dinner out.'
Flowers when she comes home from work for no reason. Little things that makes her feel you, women love to feel your love in your actions more than words.
Show her how much you love her and want her throughout the day and she will love you with a force you have never known.
Someone asked me today, what I prefer and see as good foreplay. This is my rather personal reply and quite graphic, but if you dare to dive deeper into intimacy with me, then I will gladly reveal my own deep, dirty secrets.
Note: Not one man or woman is the same and to communicate what you like and not and to play and experiment with your partner will only improve your connection.
As a man, personally? Kissing her neck often, throughout the day. Keep her warm.
Foreplay should start in the morning and last all day long.
But as we approach cunnilingus, I like to start by kissing her belly, her thighs... teasing her...
Grabbing her thighs with my big man hands. slowly approach her pussy... then skip to the other side... kiss my way slowly...
tenderly. Juicy kisses. Taste her skin.
Grab her ass or her hips.pull her closer. Let her know daddy is hungry. Then slide my tongue up her thigh...
Kiss her lips gently. Then slide my tongue up her lips. Suck on her lips.
Then suck on her clit...twirl my tongue around her clit...
flicker. suck...switch it up and dance with my tongue. slowly slide a finger inside her...then 2 fingers... sucking and kissing her clit while I rub her g spot.
As she gets dripping wet and I feel her energy rising,
I intensify and see if I can make her squirt on me... drive us both wild.
For that there usually has to be deep attraction to and from both and high sexual energy. If she is not that into you or you haven't manage to turn her on enough, or she is has not surrendered into you because you can't make her relax, she won't squirt. When she has cum a few times I will slap my cock on her tongue and have her suck me throbbing hard, like only a dick loving passionate woman who loves to suck cock can. She must love dick and find it beautiful and see sucking cock as much of an art as I see eating pussy. No man or woman is the same, so expect different strokes for different folks, so not every technique will work the same on every person,
but there are certain spots that gets every man and woman going.
Learning to use Mantak Chia's sexual Kung Fu is one technique that will increase your lifespan, the intensity of your orgasms and over all radiance. It's all about awakening the glands and get the energies flowing as the glands are the chakras and once they increase in size from stimulus so does your chakras activate. And source creative energy or sexual energy starts moving through the chakras opening you both up to higher states of consciousness and a deeper sense of love.
Then I'll slap my big fat cock on her tight, dripping wet pussy...
slide it up and down...slap it again. her juices all over me.
look into her eyes... And give her the tip...tease her...
then give her all of me...slowly...see how we fit each other ...
Fucking her g spot, just a few inches in, with occasional deep thrusts,
will drive you both wild as the tip of your penis and her g-spot rubbed up against one another secreting divine nectars will have you both love stoned on each other like never before. and retention along with this technique will help you pull and draw your ejaculation so you don't come so fast. Then I give it to her deep, hard...
legs up...Pounding her cervix to give her those out of body orgasms.
then fuck slowly.
deep passionate kisses and kiss her neck while moving as one...
wave upon wave of pleasure... Then have her sit on top of me. Slowly riding me...while kissing her nipples, to stimulate her nipples connects to her heart and gives her higher levels of pleasure....grabbing her and pound her a little roaring like an animal.
Being audible and making sounds highly improves our levels of pleasure. As well as sounding out to your partner what you like and how much you like it, gives them a clear indication of what you like.
Go into your senses.
Smell her.
Her scents...
her skin...
Her laying down on my chest slowly grinding me...
spanking her ass..grabbing her ass...kissing her neck...
flipping her over into my nook and cuddle-fucking her.
I like to Take my time. Enjoy her, savor every part of her.
Look into her eyes as we meld into one another.
Make love to her all night long.
And the next day. Show up for her again,
loving her throughout the day in words, thought and action.
This is how I love, this is how intimate I am with myself and this is how intimate and brave my partner(s) would have to be to meet me there.
You can only experience what you are. so start loving deeply, be present.
Here is a tip,
Both of you need to find your power animal and bring it into the bedroom.
And do not be afraid to be a sexual spiritual being.
Set yourself free to explore your own sexuality as you yourself see fit.
And share it with whomever you please in consensual loving ways.
In a porn and rape culture ridden with taboos and distortion,
what we need is open intimacy, healthy spiritual sexuality.
Dear brothers, our sistars are longing to be deeply appreciated, loved hard
and fucked good and if we wish to offer this to our women,
we must learn to offer this to ourselves and our own world.
Also did you know women can have up to 9 different orgasms?
just one of the many ways you can learn to serve your partner better.
click the link above. And enjoy your reading, you will thank me for it later and your females love you for it. Trust me on that one.
Ulf Haukenes, White Wolf Alchemy Ulf Haukenes - White Wolf Alchemy © 2019,all rights to this material to the authors,no copy, paste or reproduction allowed, only to be shared in it's entirety.​